Are you looking for salon marketing tips you can use to boost your earning potential? If you're ready to raise your profits then you can't afford to ignore the numerous benefits of a solid marketing plan. Being able to market your beauty business effectively is just as important to your success as having a talented staff and competitive prices.
In this economy salons unwilling to get creative and smart with their marketing strategies won't last long. If you're a hair salon or spa owner looking to draw in more loyal customers then the following salon marketing fundamentals will help you on your way to success.
Bring in Clients through Smart Salon Marketing
When it comes to pulling in more clients, great branding means great results. Most salon owners currently have some sort of branding strategy in place. But many just stop at basic branding. For instance, your salon probably already has a unique name and logo. But do you have an attention-catching slogan that sets you apart from your competitors and defines who you are as a business? Connecting to new and potential customers with a catchy and unique slogan is one of the key salon marketing strategies owners can use to create a successful branding effort.
Reach a Broader Customer Base Online
No beauty salon marketing plan is complete without a great website. These days more and more people are using the internet to search for services and products. When a potential customer logs on in search of salon business information, you want them to find your business first.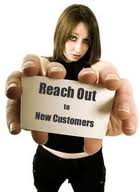 Salons that don't have websites or that have dull or difficult to load websites will easily get left behind. That's why building and maintaining a quick, informative, and attractive website is one of the most important hair salon marketing tips you'll ever hear.
Getting the Word Out: Advertise Your Salon
A great man once said that trying to save money by not advertising is like trying to save time by stopping a clock. Advertising, at least effective advertising will draw in more clients resulting in more money. So what are some effective salon marketing advertising methods? Try an eye-catching add in your local yellow pages. Try direct mailing to people who have just moved into your area.
These advertising methods are old standbys in the world of salon marketing and they're known to work. But don't shy away from more modern salon marketing ideas like pay-per-click local and regional web advertising to give your sales a real boost. You can also get the word out about your salon services by offering gift certificates and coupons to local professional and non-profit organizations. In short, get creative and innovative with your salon marketing plan and you'll set yourself apart from the competition.
Be on the Look-Out for Inventive Salon Marketing Tips
These salon marketing ideas are used by the most successful salon owners in the nation because they get real, solid results. But that doesn't mean you have to stop here. Salon marketing consultants offer all kinds of inventive salon marketing tips to keep you on the cutting edge. Potential customers won't know learn about your fantastic services and highly skilled staff if you don't try to reach them. Using these salon marketing strategies helps you reach new clients and keep your spa fresh in the memory of your returning customers.