Let's get started!
Should you need help…
Need more help? Email web support here between 9am to 5pm (EST). Please allow up to 24 hours for a phone reply.
TIP: Email replies happen MUCH faster than phone calls!


We have assembled four sample documents and other website page instructions for getting us your stuff. Scan through each document one at a time and add your name, business name, address and phone number and any other important details as needed. When done, you will upload them using the Upload My Files button below.
Click on each link below and save to your computer.
NOTE: All documents are in Microsoft WORD. You must have an editor capable of editing WORD documents. You can also use Google Docs here for free! You will need to log into Google or make a new account but that's free too! Just upload our files into Google Docs, edit and save back to your computer to upload. 
When you are finished editing documents, send them to us by clicking the "Upload My Files" button.

Making Changes to Your Website
Ready to start editing your website? Need to make a few content changes and tweaks? No problem! You can either email your changes to web support or do them yourself too! The choice is yours.
If you'd like to try it yourself, we suggest visiting our Training page first. Just click the button below:
Optional…Voice Recording of Consumer Awareness Message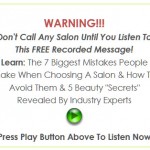 Your website will have Mike's voice recording installed by default (the green play button). You may your your own Consumer Awareness Message using YOUR voice. Just download this file and follow the instructions and notify us when you have finished.